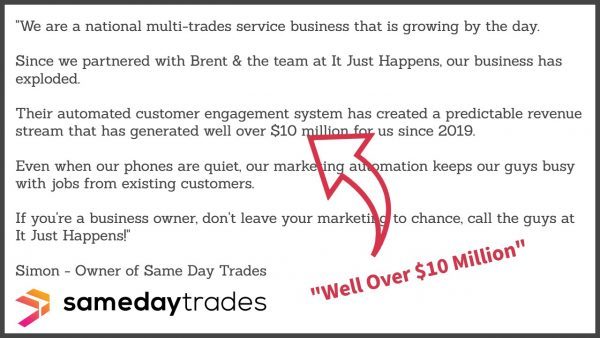 CLIENT: Same Day Trades
CONTACT:  Simon – Business Owner
INDUSTRY: PLUMBING, ELECTRICAL, AIR CONDITIONING
RESULT: Over $10 Million Extra Revenue
What was the main challenge they were trying to overcome?
They were spending a huge amount of money and time on marketing to bring in new job leads. But they weren't marketing to their existing clients, so there was no guarantee their clients would remember them next time they needed a tradesperson.
With the cost of keeping clients being significantly lower than the cost of acquiring new ones, there was an opportunity, but they didn't know how to maximise it.
What were their options?
Initially they thought about email marketing and talked with us about creating a monthly newsletter. But during our first meeting with Simon (the owner of Same Day Trades), we showed him what was possible with marketing automation.
Being ambitious and hungry for growth, Simon could see the possibilities.
What was the solution we provided?
During our first chat, Brent blew me away with his marketing ideas. I love marketing and my head was spinning.
Karen has a business brain like no other. As an experienced commercial manager, she has worked with businesses large and small, and can quickly identify significant wins without additional expense.
By the end of our call, we had decided on an automated customer nurturing system that included a mix of email, sms, phone and thank you cards.
It was a significant investment, but I was convinced the ROI would be massive if the system performed as promised.
What was the end result?
Within 3 years Same Day Trades revenue from repeat customers has grown by more than $10 million. A truly amazing success story.
AND…it's all automated.
What did they have to say?
"We are a national multi-trades service business that is growing by the day.
Since we partnered with Brent Crowley and the team at It Just Happens, our business has exploded.
Their automated customer engagement system has created a predictable revenue stream that has generated well over $10 million for us since 2019.
Even when our phones are quiet, our marketing automation keeps our guys busy with jobs from existing customers.
If you're a business owner, don't leave your marketing to chance, call the guys at It Just Happens"